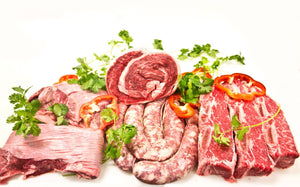 How It All Began
Catalina's Market was established in 1967 by Catalina Corrado, Felipe Corrado Sr. and son Felipe Corrado Jr. in Pasadena, California.  In 1971, the store moved to a larger location in Los Angeles, California.  What originally began as a meat and delicatessen store; turned into a specialty grocery store selling imported products from the Caribbean, Spain, Central and South America.  Since its inception, Catalina's Market has catered to a niche clientele seeking quality products not found in every grocery store.  Catalina's Market is regarded as the first Argentine grocery store in southern California and one of the first Latin grocery stores in Los Angeles.  We are known for our extensive line of imported products, wine selection, and great selection of Argentine products. We have been featured prominently in newspaper articles, television reviews and major magazine publications. Today we remain a family owned Argentine grocery store that is now run by the third generation descendants of founders Felipe and Catalina Corrado.  We are thrilled to now be able to provide our Argentine grocery items online and serve more customers throughout the United States.
Our store
1070 N. Western Avenue
Los Angeles, CA 90029
Monday - Saturday- 8am- 8pm Sunday- 8AM- 7PM
​​Holiday Hours:
July 4th- 8am- 7pm 
Thanksgiving Day - 8am- 6pm
Christmas Eve - 8am- 7pm
Christmas Day - Closed 
New Year's Eve - 9am- 6pm
New Year's Day - Closed
Shop Our New Online Store
---
Coffee & Beverages
Browse our delicious coffee selection along with our non alcoholic beverages.
Shop Coffee & Beverages